So, since I did only a brief post on Saturday about the illuminating Phrontistery website, and nothing on Sunday, I am now making up for lost time, triggered off by spotting a CALVIN AND HOBBES cartoon whilst searching for something relative to train of thought.
Amazing how things work.
Calvin and Hobbes saw me through many many years. It is one of the greatest ever concepts for anything (book, film, sound etc.), if you've never read them, then, please, sort your life out. I know that sounds an utterly brutal thing to say, but, seriously, they speak on, well, not just some, not just so many, but ALL levels. The word 'genius' is banded around
willy-nilly
(don't ask me why I put that in italics, it just seemed the right thing to do!), but Bill Watterson the creator IS, without any doubt, a genius.
When I was very young, I was raised on a diet of the Peanuts books, Garfield, The Beano, and I also loved the Wile E. Coyote / Roadrunner cartoons most of all. I discovered Calvin and Hobbes by chance when I was about 12 or 13, my mum handed me a book at Christmas time saying it looked like something I might enjoy. I'd never heard of it or seen it anywhere, but I read it that morning (well, most probably afternoon. I've never been one for getting up early, Christmas Days included!), and I almost literally wee'd myself with laughter. I soon got the entire collection and it changed my life. Even just the simple fact that it is named after a theologian and a philosopher is brilliant. Imagining a REAL 6 year old coming out with some of the things Calvin says is just mind boggling, and the fact he is sharing it all with a stuffed tiger that comes to life when nobody else is around is just inspired.
So,
instead of me talking, I'll just post up a few goodies, and let you read more about them, seriously, if you do one thing with your life from here on in, if you've never read any Calvin and Hobbes books, just do it.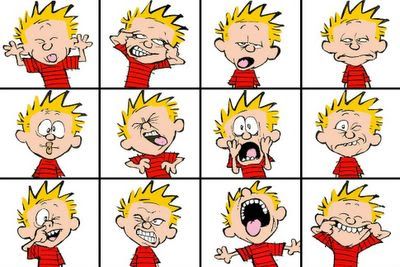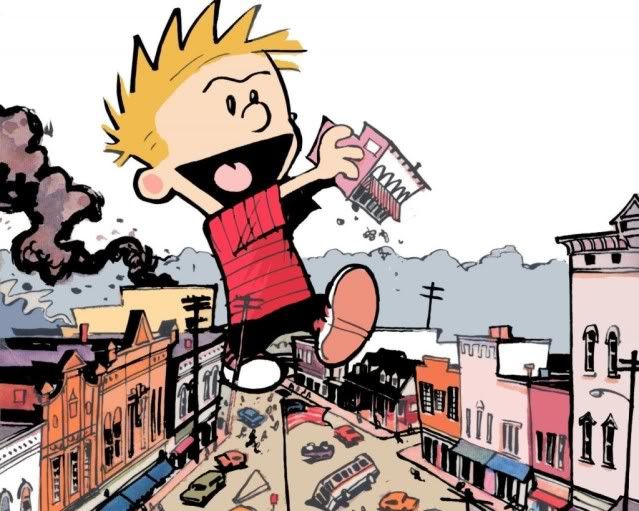 and, this isn't by Watterson, but I want to find out who did this and shake them by the hand, this is absolutely incredible!!!
Wiki page about Calvin and Hobbes. Bill Watterson is an incredible man, with great judgement, and immense intellect
Pure gold in a box!